Come Out and Play Charlottesville LGBT Volleyball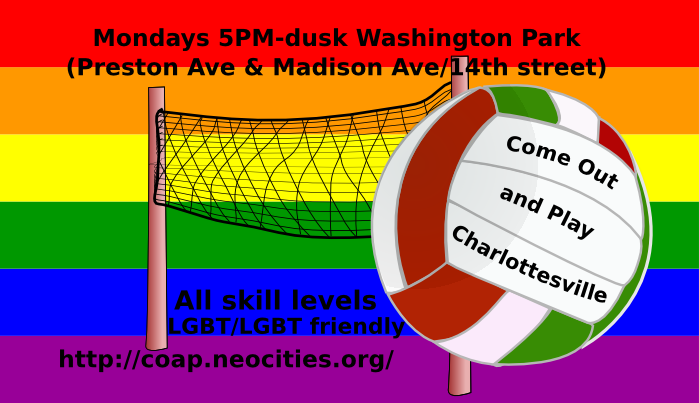 News
Monday 2016-05-30. You don't have to endure beach traffic to play volleyball on memorial day!
On Monday May 23, 2016, volleyball is cancelled. See you again on the 30th. Note that if you have properly imported the COAP google calendar live (and not just copied the event), this weeks event should automatically show up as cancelled.
Description
Lesbians, Gays, Bisexuals, Transgendered, and other sexual minorites, as well as friends and allies, in the vicinity of Charlottesville, VA are invited to join us for friendly pick-up games of volleyball, regardless of skill level, on Monday nights at the lower section/northwest corner of Booker T. Washington Park at the intersection of Preston Ave and Madison Ave (AKA 14th Street NW) in Charlottesville. Officially starts at 5PM but arrive if you arrive late you should still get to play. No advanced signup required. We have open games on one or more nets. Some of us may go out for food afterwards. We are centrally located, less than a mile from UVA/The Corner, Downtown, and Barracks Road Shopping Center and accessible by car, bus, or in many cases walking.

There is no charge to attend, though minor donations may be collected occassionally to cover cost of equipment repairs, flyers, etc.

Before you leave this page, please bookmark the page and import the calendar into your google calendar using the directions in the calendar section below.

You can download the Poster PDF (download section below) then open with adobe acrobat.

The 2D barcode in the poster is a QR code which can be read by google googles or a variety of other QR code or barcode apps on mobile phones and tablets.

-->
Calendar
Use the "+Google" to add this calendar to your google calendar. Remember to configure the google calendar app on your phone to sync this calendar to your phone (menu button -> settings -> ComeOutAndPlay ... -> sync), if necessary and refresh. Also, if you want alarms, you may need to copy the Come Out And Play recurring event to your personal calendar or change the notification settings (menu button -> settings -> ComeOutAndPlay ... -> notifications). The latter method is much better because it will automatically update when we update the master calendar, including schedule changes and next years season. Use the iCalendar URL below to import the calendar into any other standards compliant calender application

.
Google Calendar links
Cancellations
Events may be cancelled if prolonged heavy rain is likely.
Several holidays occur on scheduled volleyball days. Action TBD. Memorial Day 2016-05-30, Independence Day 2016-07-04, Labor Day 2016=09-05
The annual african american cultural arts festival date hasn't been announced as of this writing but will probably be in late July and will tie up the park for 4 days but probably not on monday.
Maps and Directions
A downloadable printable map is in the download section.
GeoURI (Latitude/Longitude): geo:38.041488,-78.491762
Nearest Address: "1100 Preston Ave, Charlottesville, VA"
Official Address: "1001 Preston Ave, Charlottesville, VA". This will take you to the wrong corner of the park/wrong entrance.
[Google Maps]
Warning: when you reach the proper corner of the Park, there is no Park Signage! If you are on Preston Ave, look for the green "Madison Ave" sign over the road on the traffic light boom; likewise, if you are on Madison, there is a similar Preston Ave sign. Also, look for the open field and the Volleyball Net, if we have had time to set it up yet.
Directions from UVA
Walk or drive: 0.7 miles (14minute walk) from "The Corner" bar district at the edge of campus, head north on 14th St NW. The name will change to Madison Avenue one block after you cross Grady Ave. When you reach Preston Ave, the parking lot will be on the other side of the traffic light. Note that Grady Ave's nickname is Shady Grady; consider getting a ride back or taking the bus after dark.
University Transit System Bus: You can take the University Loop (orange) UTS bus (inner or outer loop); get off at stop #58 "Madison Ave at Preston Ave". Bus usually runs every 10 minutes.
Charlottesville Area Transit Bus: Not recommended from The Corner. You can take the CAT #9 bus, but you will still have to walk 0.5 miles (0.2 miles from The Corner and 0.3 miles to destination) and wait for a bus that departs once an hour.
Other routes for out of town.
See the note above about lack of park signage
From 29 north southbound: turn left on Barracks Road/Preston Avenue, just past Arby's. Park will be on left at intersection with Madison Ave (14th St NW)
From 64 east westbound: take 250 exit, stay on bypass. Take MacIntire Road exit south. Turn right on preston ave. Park will be on right at intersection with Madison Ave.
From 29 south northbound: stay on 29 bypass instead of taking 29 business exit. Take barricks road exit, turn right (east). Barricks road will turn into Preston Ave. Park will be on left at intersection with Madison Ave (14th St NW)
From 64 west eastbound: take the 29 North exit, stay on bypass instead of taking 29 business exit. Take barricks road exit, turn right (east). Barricks road will turn into Preston Ave. Park will be on left at intersection with Madison Ave (14th St NW)
From 250 west eastbound:: take the exit for 29 North/250 west bypass. Take barricks road exit, turn right (east). Barricks road will turn into Preston Ave. Park will be on left at intersection with Madison Ave (14th St NW)
From 20 north, southbound: Turn right on Route 250. Take barricks road exit, turn right (east). Barricks road will turn into Preston Ave. Park will be on left at intersection with Madison Ave (14th St NW)
Alternative route for those coming in on 20 north southbound or 250 east/west of town, instead of taking mcintire road exit, continue to rugby road exit, turn right onto Mcintire road, and when you come to a T intersection, turn left at Preston Ave, park will be on left.
From 20 south, northbound: optionally take Avon street shortcut and turn left onto Monticello Ave/Route 20. Continue on Monticello Ave Route 20 until you reach 5th Street. Turn right on 5th street (north). Name changes to Ridge McIntire. Turn left on Preston Ave just past McDonalds. Park will be on your right.
Travel by Bus
Bus stops: there is a sheltered Charlottesville Area Transit (CAT,formerly CTS) bus stop on Preston Ave at Madison Ave, 100ft from where we put the first net. There is a sheltered University Transit System bus stop on Madison Ave (14th St) near Madison Ave, about 100 yards from where we play volleyball. There is also one diagonally across the street (Preston) for buses travelling the other direction. Use Google Transit or CAT Real time route map or the CAT android or iOS app to find CAT routes (But not UTS).
CAT "Preston AVenue at Madison Avenu (northbound)" #14024 Bus #8, typically every half hour. This route goes from downtown mall to barracks road shopping center to Seminole Square Shoping Center and Stonefield Shopping Center then loops back on almost the same route. Warning: this route stops running at around 7PM.
CAT "Preston Avenue at Madison Avenue (southbound)" #11833 Bus #8, typically every half hour
UTS "Madison Ave at Preston Ave" #58, U-loop bus (both inner and outer U-loop), typically every 10 minutes, drops to every 15 minutes after 8PM.
Parking
Parking is usually not a problem if you arrive before 6PM but if you arrive late or if there are other activities in the park, the lot may fill up. There are some additional places to park. Download the GPX file in the downloads section for your GPS.
geo:38.04165,-78.49173 [google maps], COAP Volleyball Parking1 - Lower Lot (Default) 0miles.
geo:38.04035,-78.49013 [google maps], COAP Volleyball Parking2 - Upper lot. 0.3miles From Parking1, turn left onto Preston Ave, take next left on 10th street. "710 10th St NW, Charlottesville, VA" is the nearest address to the parking lot. Walk back the way you drove (sidewalk). It is possible to take a more direct route but the hill is pretty steep.
geo:38.04197,-78.48989 [google maps], COAP Volleyball Parking3 - The OTHER Madison ave. This section of Madison Avenue does not connect to the other Madison Ave (unless you are a pedestrian). While it is 0.1miles by foot, it is 1 mile by car to this lot. On-street parking with detached residences (public housing, duplexes) on one side of the road and the wooded edge of the park on the other. Usually there are no cars parked on that side of the street. There is a short trail near the end of the street that connects to the lower parking lot. It is 100ft walk throught the woods (two flights of stairs, 16ft elevetion?), then 200 ft to the edge of the parking lot and another 300ft to the volleyball nets. Put "1625 Madison Ave, Charlottesville, VA" in your GPS if not using the coordinates; this is the nearest address. From Parking2, instead of going back the way you came, jog left (almost straight) out of parking lot onto Henry Ave (though it will still be called 10th St NW at this point), then turn left on Rose Hill Drive, then immediately after you pass the Middle School, turn left on Madison Ave.
Parking 4 ????. 0.6miles. This is near Parking 2. It appears to be the back parking lot for Burley Middle school. 1 block from parking lot 2, 10th St NW, officially turns left (straight becomes Henry Ave). Feasability of parking there has not been explored. Possible routes to walk may be back the way you drove via Parking2, cutting across to Madison Avenue (near Parking 3), or walking around the edge of the two baseball fields (on appears to belong to Park, the other the school); both routes cross treelines and possibly fences or underbrush.
Amenties
Restrooms: 2 Porta-Potties. at end of parking lot. Restrooms at rec building in upper level of park should be available (closed for winter but opened april 1). Pool building at upper end of hill may be available.
Seating: there is no permanent seating close to where we usually set up the nets. We usually sit on the side of the hill.
Trashcans: trash cans are available near by at the edge of the parking lot.
Lights: there are street lights in the parking light. Park closes at dusk.
Picnic Shelter: there is one picnic shelter with picnic tables in the lower section of the park but it is 250 feet from where we play so we don't normally use it though it has been used for shelter from the rain.
lightning shelter: cars, possibly indoor section of rec building but it is in upper section and closes at 7:30PM (except bathrooms?); metal roof, metal grates on windows. Picnic shelter and bus stops not safe.
"Dogs must be on a leash and under control. Dog owners are required by city code to clean up after their dogs; a plastic bag dispenser is provided for cleaning up dog waste."
Bring
Bring ample water or other suitable beverage.
Clothing suited to weather and activity level.
Sunscreen if you are particularly prone to burning or have sunlight sensitivity (otherwise, the Vitamin D production is probably good for you and it is late in the day.)
Insect repellant if desired
Help Spread the Word
Please let your friends know!
Downloads
Nearby businesses
Need to pick up a snack or a bottle of water on the way over? Want to eat with the group after?
Nearby businesses (east): 1/4 mile: Shenandoa Joe Coffee, Former Preston Ave location of SPCA Rummage Sale, Martin's Hardware, Stixx Kabob shop, McGrady's Irish Pub, Three Notched Brewing Company, Integral Yoga Natural Foods are near the upper end of the park. There is also (3/4 mile) Reed's Super-save Market (groceries), Preston Avenue Shell (gas, convenience store, fried chicken and sides, $3.99 monday night special?), Bodo's Bagels, Wendy's, McDonalds, Shabeeen, and Subway a little further towards downtown and all of the downtown businesses past that (including Escafe).
Nearby businesses (west): 0.9mile+ Barracks Road Shopping Center and vicinity. Impulse Gay bar, Burger King, Arby's, Kroger's Supermarket, Harris Teeter Supermarket, 7-11 convenience store, Sweet Frog Frozen Yogurt, Brixx Pizza, Slice Pizza, Ming Dynasty, Zoes Kitchen, Zinburger, Hot Cakes, Ben & Jerry's Ice Cream, Chipotle, Five Guys Burgers and Fries, Greenberry's Coffee Co, Barnes and Noble Cafee, Ruy Tuesday, Tara Thai, Panera Bread, Peter Chang China Grill, ZZaam! Korean Grill, etc. A little north of those we have the beginning of the 29 north area with Best Buy, K-mart, Whole Foods, W orld Food Market, Costco, Noodles & Company, Stonebrook Theater, Cici's, Little Ceasers (kmart),
Nearby businesses (south): 0.8miles. "The Corner" area. Many bars/restaurants. convenience store.
Ace Biscuit and Barbecue (0.7mile) is at 711 Henry Ave. A straight shot from the upper parking lot.
It is 1.3miles via preston Ave and Macintire to Cville Coffee, Great Harvest Bread, Carpe Donut, Mi Canton (Mexican)
Charlottesville Health Department is on Rose Hill Drive, 3 blocks past the turn off. HIV/STD testing, HBV vaccines.
Contact Info
Phone: TBD.
twitter: tbd
Facebook: none. We used to use it but now they want to charge for each time an update appears in a subscriber's feed.
meeetup: none. they gouge non-profits and social organizations $10-15/month.
links
Disclaimer
Play at your own risk
There may be Lesbians, Gays, Bisexuals, Transgendered, consensual sadomasochists, swingers, straights, and others representing the diversity of consenting adult human sexuality present at this event. If you are offended by other people's sexual orientation, public displays of affection, discussion, etc. this is not the place for you.
Respect the right of others to say no. Respect the right of others to ask.